SPS-1210
Replaces SPS-1212 and DV9-500


Premium High Efficiency, International
12VDC Regulated 1.0A Power Supply

Premium High Power 100-240Vac 50/60Hz Input, Voltage Regulated Output, International Power Supply
Description
This premium switch regulated power supply offers superb performance in a small, cool running package.
Robust reliability, high power and high efficiency all in a narrow attractive package that doesn't hog space in a power strip.
The SPS-1210 will power any IR system, small or large, including multi-zone systems, to its optimum performance level.
We recommend the SPS-1210 power supply for all Buffalo Electronics IR system designs, it will always provide the best performance from our IR system no matter how it is configured.
The SPS-1210 has the agency safety approvals and plug adapters required to be used worldwide.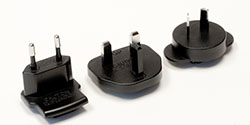 Features
Best choice for optimum IR system performance
>90% Efficiency allows the SPS-1210 power supply to run cool while conserving energy
Small narrow size installs almost anywhere
High build quality for long life
1.8m (5"9") plug cord with 5.5mm x 2.5mm plug (center = V+)
Input: 100-240Vac 50/60Hz — Output: Regulated 12Vdc @ 1.0A
UL, CSA, + International safety approvals
Available plug styles: USA/CA; EU; UK; AU