IR-J8
Structured Wiring Box - Connect Up to 8 Repeaters to One IR-100 Connecting Block + Optional Power Connection
Protective Cover & Plug-in Connectors For Clean Installs that are easy to Troubleshoot and Modify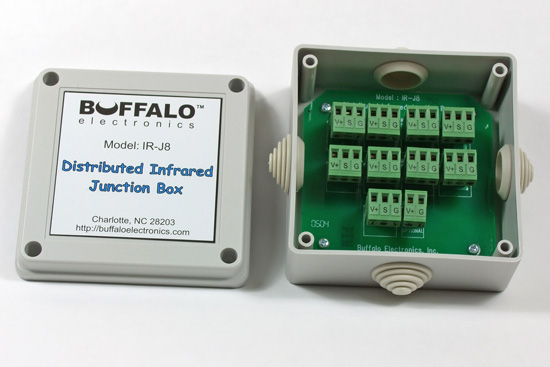 Description
The IR-J8 neatly connects up to eight repeaters from eight different listing zones or rooms, to one or more IR-100 connecting blocks. It also has an optional power input that, at times, can be more convenient than inputting the power at the IR-100 connecting block.
The IR-J8 is specifically designed to pass IR remote control signals without adding unwanted distortions.
The IR-J8's plug-in/out terminal block connectors aid the wiring of connections, allow fast system modifications, and make troubleshooting much easier than in hard wired infrared systems.
Features
Screw on labeled protective cover
Easy to use plug-in/out terminal block connectors
4 Entry holes with rubber boot wire covers
Accepts up to 16 AWG wire, 24 AWG CAT5/6 recommended
Designed to pass IR remote control signals without adding unwanted distortion
Promotes neat, clean, trouble free installations
UL approved electrical box enclosure
High build quality for long life
Installs easily with 2 mounting screws