IR-250
High Performance Ultra Thin (1/2") J-box IR Repeater
State-of-the-art SMT IR Repeater with Automatic Signal Gain Control and Two Built-in Noise Filters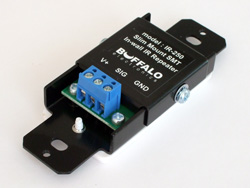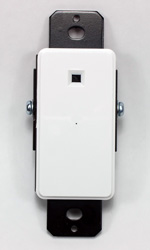 Description
The IR-250 is a stylish ultra thin (just 1/2 inch deep) high performance IR repeater. It takes the most popular infrared remote control system used today to a new level.
The IR-250 offers the convenience and ease of standard electrical box installation along with the same superior performance that small surface mount tube repeaters add to a system.
The IR-250 is the most advanced standard J-box style repeater available.
If your system wiring is usually a bit tight in the electrical box, the extra room the IR-250's very shallow 1/2 inch depth affords can make life a little easier.
Features
Compatible with CRT, Plasma, LCD, and LED TVs
Covers both 36-40 kHz and 56 kHz consumer electronics IR bands
Exceptional 35-40 foot range and 130° acceptance angle
Configurable Multi-Block interference filter kit included (hidden when installed)
Elegant pin-light LED for signal confirmation and troubleshooting
Low noise, reliable surface mount technology
High quality brand name electronic components for long life
Advanced design suppresses noise and yields reliable IR data transmissions
Auto gain control for uniform room remote control sensitivity at any wiring distance
Terminal block connector easily accepts any wire up to 16 AWG
Uses just 1/2 inch J-box depth (need extra space for wires... this is your repeater)
Decora trim, both white & light almond inserts included
Designed with the professional installer in mind