VC-5S
Replaces VC-5A


Premium "Selectable Mode" Volume Control
with Soft Detents and Subtle 1.5dB Level Steps

50 Watt Stereo Volume Control with Selectable Impedance Protection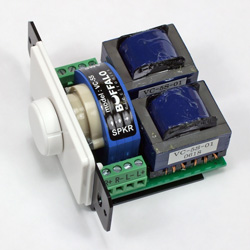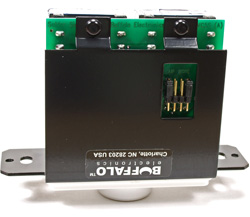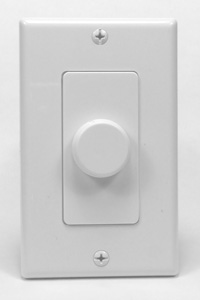 Description
The VC-5S is two volume controls in one. It's a VC-5A with the option to jumper out the Automatic impedance protection when it is not needed. The VC-5S works equally well in either mode but requires the installer to correctly set the controlling jumpers.
With the jumpers in Automatic impedance protection mode the VC-5S protects your amplifier from overload exactly the same way the VC-5A does, no difference. The VC-5S allows up to eight rooms of distributed stereo audio from a single amplifier.
With the jumpers in No protection mode, the impedance padding removed, the volume level increases allowing a lower power, less expensive amplifier to be used. This is a great setup for one or two rooms of distributed stereo audio.
The VC-5S is perfect for starting out with one or two rooms of audio. Later if more rooms are added simply change the jumper position to Automatic protection mode and drive up to eight rooms from a single, perhaps higher power amplifier. No need to replace the existing VC-5S volume controls.
Features
Selectable mode: Automatic impedance protection mode or No protection mode
Automatically protect amplifier from overload in Automatic protection mode
No protection mode for increased volume levels in 1-2 room installations
Select desired mode with two simple plug-in jumpers
50Wrms/channel rating — Handles 150 watts of music power/channel
Frequency response: 35 Hz - 40 kHz,+ 0 dB - 2 dB
Low volume 1.5 dB level adjustments for superior room control
Smooth, soft detent 11 position switch, 10 volume levels + off position
Terminal block connectors accept up to 12 AWG speaker wire
Premium autoformers and an industrial strength build quality
Stylish low profile easy to grip knob
Includes our durable molded ABS wall plate for a perfect color match
Available in decora or standard trim, color: white, light almond, or ivory
Mounts in any standard electrical box or P-ring