MB-100 (by IRDaudio)
Sold Out


Powerful Precision "Audiophile" Monoblock Amplifier

2-Channel Audiophile Bliss or a Unique Powerful Multi-Amp Large-as-life Home Theater System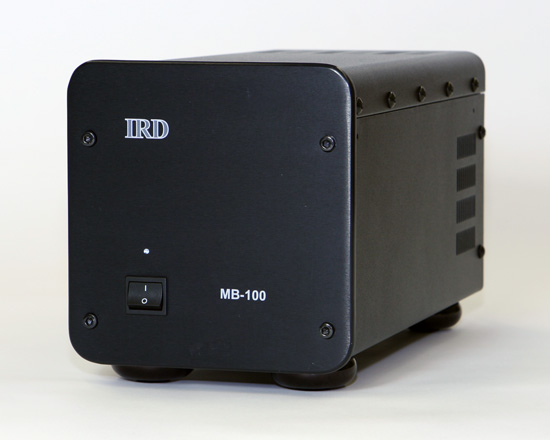 Features
Excellent Audiophile Sound Quality
400W High Current Power Supply
Extreme High Build Quality
Removable IEC 6ft 16AWG Power Cord
Large Knurled Metal Speaker Binding Posts
Gold Plated, Teflon Insulated RCA Connector
Description
We've shipped more than 1,000 of these fine amplifiers. For power, looks, build quality, and sonic abilities this amplifier will not be embarrassed by anything in its class.
The MB-100 has been compared, by audiophiles, to amplifiers that cost thousands of dollars. This is a robust almost bulletproof no maintenance design for 2ch music or HT applications.
The powerful MB-100 monoblock amplifier will easily drive most loudspeaker systems.
The MB-100 is DC coupled (no capacitors in the signal path), it is dead silent between music content (even at full volume), it has crystal clear smooth midrange and sparkling highs, and its powerful rich bass can shake a building!
The MB-100's sound is quite transparent, very smooth and highly detailed.
Six of these amplifiers (for 5.1 HT) can be combined to supply the audio for a substantial home theater system and will rival or beat most of the HT's amps out there, at any price.
We believe six amps in one box, running off a single power supply and one power cord is not the best solution. Many all-in-one-box HT amplifiers use fancy specsmanship to make them look good on paper and then fall short of customer expectations when installed in a HT system.
Besides supplying large amounts of clean audio power to each speaker, monoblock amplifier solutions allow more system design layout options than all-in-one-box amplifier solutions.
The MB-100 was designed to play loud with only 0.014% THD+N @ 4 ohms at full rated continuous power. Music program peaks of more than 240 watts have been measured into 4 ohm speakers. Driving passive subwoofers is not a problem for the MB-100.
The MB-100 is compact at 6.5"W x 7.0"H x12.8"D and weighs in at 23 Lb. It sounds like a much larger amplifier due to its oversized 400 Watt power supply, large reservoir capacitors, and custom designed high current 9 lb silicone steel shielded low noise toroidal transformer.
With its 8mm thick CNC machined aluminum front panel, solid aluminum machined feet (Butyl rubber inner feet to protect furniture), black nickel finished hardware, 2mm thick enclosure, heavy duty removable power cord, and enough clean clear audio power to shake a house, it's easy to see that this is not a mass produced discount store amplifier.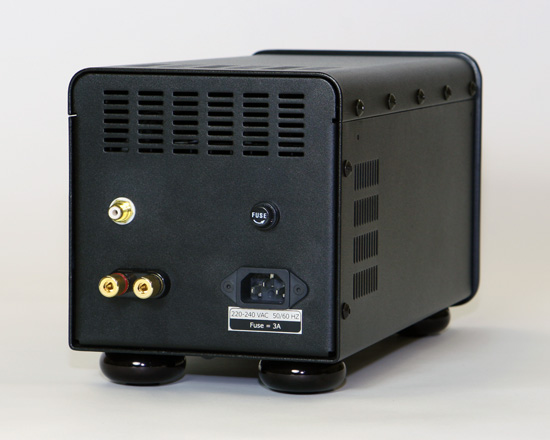 Specifications
Gain ..................................................... AC Signal = 26dB (x20) and DC = 0dB (x1)
Input Sensitivity .................................... 1.25 Vrms (produces max output level)
Input Impedance .................................. 22.1K Ohms
Frequency Response............................. 7 Hz - 50K Hz +/- 0.2 dB ; 3 Hz - 195 KHz +/- 3 dB
Output Stage......................................... Class AB
Slew Rate............................................. 10 V/uS
Peak Output Current............................. > 10 A
DC Offset Voltage at Speaker Output ...< 2 mV (input shorted)
Output Power....................................... 100 Watts Music Power (RMS) @ 8 or 4 Ohm Load
THD+N ............. 0.010 % @ 75 Watts Continuous Average Output into 8 Ohms @ 1 KHz
........................... 0.014 % @ 105 Watts Continuous Average Output into 4 Ohms @ 1 KHz
Amplifier Protection Circuits:
* SOA (Safe Operating Area) Overload Protection
* Output Stage Thermal Shutdown Protection
Weight..... 23 Lb.
Size......... 6.5"W x 7.0"H x12.8"D
Power Requirement..... 110-120 Vac 50/60 Hz (or) 220-240 Vac 50/60 Hz
Power Cord Supplied..... Removable IEC 6ft 16 AWG (13A) UL Approved